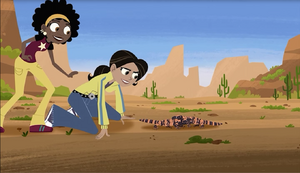 gila monster under my house it shows the real side of gila monster that do not attack but defend but zach learns what happens when you scare gila monster's he gets bit in the behind but the kratt bros took him to the tortuga for first aid aviva gives him the anti venom awww and he has fear of needles even after he already got the shot and it shows lockjaw the main animal is a girl she laid eggs and at the end they all hatch and eat insects
Ad blocker interference detected!
Wikia is a free-to-use site that makes money from advertising. We have a modified experience for viewers using ad blockers

Wikia is not accessible if you've made further modifications. Remove the custom ad blocker rule(s) and the page will load as expected.