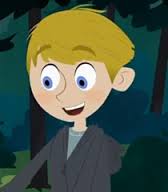 Gavin is a small boy who likes to fish for bass. He appeared in the episode Bass Class. He is the main protagonist in the episode he is voiced by Gavin Kratt he has a 3rd place trophy He tried to win But lost later he had won bass class.
Ad blocker interference detected!
Wikia is a free-to-use site that makes money from advertising. We have a modified experience for viewers using ad blockers

Wikia is not accessible if you've made further modifications. Remove the custom ad blocker rule(s) and the page will load as expected.